Exhibitions
Showakai Award Winning Memorial Exhibition of Hiroki Yoshitake

August 1, 2020 (Sat)〜August 10, 2020 (Mon (holiday))
Open every day during exhibition
We are pleased to inform you of "Showakai Award Winning Memorial Exhibition of Hiroki Yoshitake"..
Mr. Yoshitake is a young and talented artist who graduated from Tokyo University of the Arts and its graduate school and won the Showakai Award at Showakai Exhibition in 2016. He will hold his first solo exhibition at Nichido Fukuoka Gallery. Please enjoy about 50 new pieces of his works including the forest series.
Nichido Fukuoka Gallery
Every phenomenon surrounding human beings including me is made of particles (that is, dots), and dots gather to make a form and return to be dots again. This is the concept of universality and eternity of my core expressed by the technique of pointillism.
Hiroki Yoshitake
The artist's presence at the gallery: August 1 (Sat), 2 (Sun), 7 (Fri), 8 (Sat), 9 (Sun) and 10 (Mon (holiday))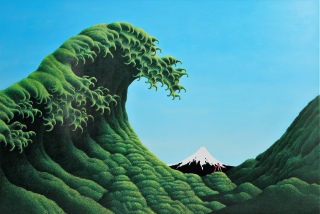 Biography of Hiroki Yoshitake
Born in Kurume City, Fukuoka Pref. in 1982. Graduated in 2009 majoring in Oil Painting at Department of Painting, Tokyo University of the Arts. Won Ikuo Hirayama Award and Taito Ward Mayor Award with his graduation project. Exhibited at Art Fair Tokyo 2010 (Galerie Nichido booth). Completed the master course in Paining, Department of Art Studies, Graduate School of Tokyo University of the Arts in 2011. Solo exhibition "Landscape of the Heart" in 2014 (Main building of Ishibashi Art Museum 1st floor gallery). In 2015, won Television Nishinippon Award at the 4th Shigeru Aoki Memorial Grand Prize West Japan Art Exhibition, and Audience Award at Shell Art Award 2015. Won the Showakai Award at the 51st Showakai Exhibition, Osaka Governor Award at Art Move Contest 2016, Kurume City Art Encouragement Award. Non-affiliate artist at this moment.
Business hours: 10:00 - 19:00 Sat / Sun / holidays: 10:00 - 18:30
Please contact below for information on the exhibition.
Nichido Fukuoka Gallery
1st floor, Hotel New Otani Hakata, 1-1-2, Watanabe-dori, Chuo-ku, Fukuoka City
Tel: 092(713)0440