Exhibitions
Junkichi Mukai Exhibition Galarie Nichido, Main gallery

March 4, 2020 - March 16, 2020 Closed Sunday
It is our pleasure to make an announcement on the exhibition of Mr. Junkichi Mukai, whose pieces represented by thatched roof are loved by everyone.
Born in Kyoto in 1901 and until he passed away in 1995 in Tokyo, Mr. Mukai lived tumultuous 20th century, devoting his life to production of pictures. The series of pieces of Japanese folk dwellings which was started in 1945 from his experience in the war are now said to contain more than 2,000 pieces. The houses in his pieces are disappearing due to flow of the time, and therefore, the paintings produced by Mr. Mukai are not only valued of their artistic qualities, but have also become very precious as the records of Japanese landscapes.
We sincerely hope that the message of Mr. Mukai, who did not simply draw old houses, but also simultaneously illustrated the everchanging climate of various areas of Japan will be delivered through his works to Japanese people of further generations.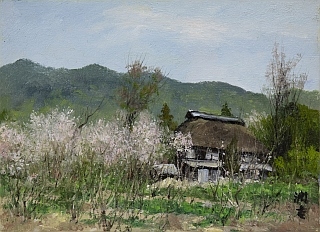 March 4, 2020 - March 16, 2020 Closed Sunday
10:00-19:00
11:00-18:00 Saturday; Closed 18:00 on the final day
For further enquiry about the exhibition, feel free to contact us.
galerie nichido Tokyo
Tokyo-to Chūou-ku Ginza 5-3-16
TEL: 03 (3571) 2553