Exhibitions
Hiroshi Hiraoka Exhibition-Drawing Nature of the World's Heritages- Fukuoka Nichido Galarie

March 7, 2020 (Sat) 〜 March 15, 2020 (Sun) Open during the exhibition period
It is our pleasure to announce the Hiroshi Hiraoka Exhibition.
It is the fifth new works exhibition at Galarie Nichido Fukuoka, and the last one was five years ago. More than 40 oil paintings finely illustrating Mt. Fuji, the world's cultural heritage, Yakushima, the natural heritage, Aso, the geopark, and Sakurajima Island and the great camphor tree of Kamou, which is the biggest tree in Japan, etc. will be exhibited. Please enjoy the various great landscapes of nature of the four seasons.
We are sincerely waiting for your visit.
Biography of Hiroshi Hiraoka: Born in the northeastern area of China (former Manchuria) in 1946. In 1965, graduated from Fukuoka Prefectural Kashii Technical High School. Graduated from Tanaka Senden Gijutsu Kenkyujo in 1966. In 1979, published a pen-drawing book "Shiki no Uta (poetry of four seasons)." In 1981, exhibited his own piece at Gallarie Nichido's "16th Showakai Exhibition" (exhibited at the 17th and 25th Showakai Exhibitions thereafter). In 1982, held a personal exhibition at Galerie Nichido Fukuoka (2003, 2011 and 2015 thereafter). In 1995 and 1998, exhibited at "Eiten" held by Tagawa Museum of Art. In 1996, published an art book "Utsukushiki Shizen to Jojoshi (beautiful nature and lyrics)." In 1998, published a pen-drawing book "Shiki no Uta (poetry of four seasons)." Published a co-authored essay book of Midori Sadakari "Sato no Uta (poetry of countryside)" in 2016, Currently does not belong to any agency.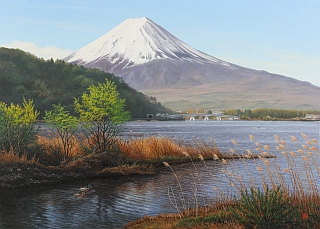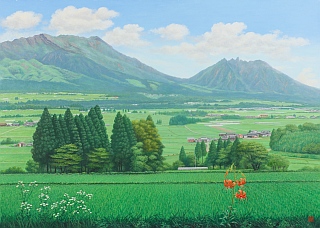 Business hours: 10:00 - 19:00, [Saturday, Sunday, Holiday] 10:00 - 18:30
Contact below for inquiry concerning the exhibition.
Galarie Nichido Fukuoka
1st floor, Hotel New Otani Hakata, 1-1-2, Watanabe-dori, Chuo-ku, Fukuoka City
Tel: 092(713)0440