Exhibitions
Kan-emon ASAI Katsuzo SATOMI Exihibition

February 4 [Tues]-17 [Mon] 2020. Closed on Sundays.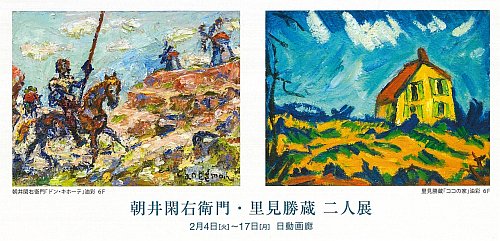 Kan-emon ASAI
1901 Born in Osaka City as the second child / first son of the Asai Family who had a close kinship with the Kishu Tokugawa Family.
Autonym: Minoru Asai
1914 Moved to Hiroshima and went to Hiroshima Commercial High School but left school with desire to become a painter.
1919 Moved to Tokyo, and learned at Hongo Yoga Kenkyujo (Hongo Western Painting Laboratory).
1926 Won an award at "Nika Bijutsu Tenrankai (Nika Art Exhibition)." Named himself the pseudonym of "Kan-emon Asai."
1934 Won an award at "Koufukai-ten (Koufukai Exhibition)."
1936 Won the award of Minister of Education, Science and Culture at "Monbusho Bijutsu Tenrankai (Art Exhibition of Ministry of Education, Science and Culture).
1942 Opened the atelier in Oomori.
1943 Held a solo show in Shanghai. Then moved alone to Shanghai after 1945, and stayed there until migration back to Japan after 1946 (postwar).
1946 After the migration, he was hospitalized in a hospital in Yokohama due to disease of throat.
1947 Opened the atelier in Taura, Yokosuka City, and lived alone. Formed "Shinjukai."
1962 "Kokusai Keishoten" was organized and became a coterie.
1966 Moved to Yuigahama, Kamakura City
1983 Passed away in Kamakura, age at death: 82
Katsuzo SATOMI
1985 Born as the forth son of a doctor in Kyoto.
1908 Learned drawing.
1913 Entered Kansai Bijutsuin and learned Western painting from Takeshiro Kanokogi.
1919 Graduated from Tokyo Bijutsu Gakko (present Tokyo University of the Arts).
1921 Visited France and received coaching from Maurice Denis at Academie Ranson.
When making a sketch in Auvers-sur-Oise, he met Vlaminck by accident and received his coaching. Received strong influence from him thereafter.
1923 Learned at Academie de la Grande Chaumiere.
1925 Returned to Japan. Submitted the piece created during his stay in Europe for "Nika-ten (Nika Exhibition)" and received "Chogyu Award."
1926 Moved to Tokyo and opened the atelier in Shimo-ochiai
Founded "Senkyuhyakusanjunen Kyokai (1930 Association)."
1929 Moved the atelier in Iogi (present Shimoigusa, Suginami-ku).
Became a member of "Nikakai" and resigned from the "1930 Association."
1930 Founded "Dokuritsu Bijutsu Kyokai(Independent Art Association)" (resigned in 1937).
1931 Formed "Sorinkai" with the members who resigned from "Dokuritsu Bijutsu Kyokai(Independent Art Association)."
1954 Entered "Kokugakai" as a member. Visited France for the second time (until 1958).
1961 Moved to Kamakurayama.
1968 Held the first self-selection exhibition (Nihonbashi Mitsukoshi).
1972 Formed "Shajitsu Gadan." Visited France for the third time (until 1973).
1978 Portfolio "Satomi Katsuzo Sakuhinshu" was published from Yomiuri Shimbun.
1981 Passed away at his own home (age at death: 85).
Hours: 10am--7pm on weekdays/ 11am--6pm on Saturdays and Public Holidays.
For further enquiry about the exhibition, feel free to contact us.
galerie nichido Tokyo
Tokyo-to Chūou-ku Ginza 5-3-16
TEL: 03 (3571) 2553