Exhibitions
Kazuaki NANAMORI Exhibition, at the galerie nichido Fukuoka

October 4 [Sat]-14 [Mon], 2019. Open every day during the exhibition.
Kazuaki NANAMORI studied at the Oil Painting Department at the Tokyo University of the Arts and went on to postgraduate course of the same university to pursue his paintings further under Hiroshi NAKANE. He received the Nichido Art Foundation Award of the 28th Showa-kai Exhibition. His unique landscape paintings of daring touch attract many art fans. We display more than 30 fine aerial landscapes of Kumamoto, Oita and Miyazaki prefecture, newly created for this solo exhibition in 13 years. Looking forwards to seeing you at the gallery.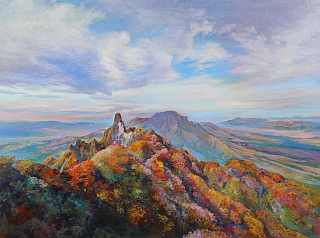 Hours: 10am-7pm on weekdays/ 10am-6:30pm on Saturdays and Sundays
Open every day during the exhibition
For further enquiry about the exhibition, feel free to contact us.
galerie nichido Fukuoka
Fukuoka-shi Chūou-ku Watanabe-douri 1-1-2
Hotel New Otani 1F
TEL: 092 (713) 0440