Exhibitions
Exhibition of Fish Paintings by Sakana-kun, Gyo Gyo Gyo !!!
at the galerie nichido Tokyo

August 21 [Wed]-September 2 [Mon], 2019. Closed on Sundays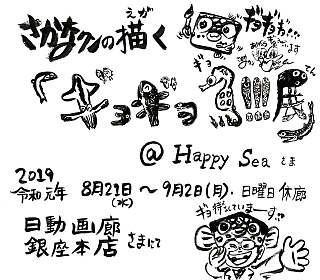 Sakana-kun can draw the fish from any angle.
The first solo-exhibition of Sakana-kun will be opened in response to many requests to have a look at the real paintings by Sakana-kun. We will exhibit around 50 pieces by him, including those of various sizes, from the 1167×1303 cm piece to the small ones, using popular materials as acrylic paints, brush-tip pens, marker pens, and pastels. The side
We offer the special features for the wide range of visitors from adults to children, such as the "Marine Photo Booth" where you can take photos, the "Let's Create Our Aquarium" space that everyone can join in, and our first attempt of the "Fish Guide" by scanning the QR codes. You will fully enjoy the experience of learning and having some fun through Sakana-kun 's paintings, besides viewing his works.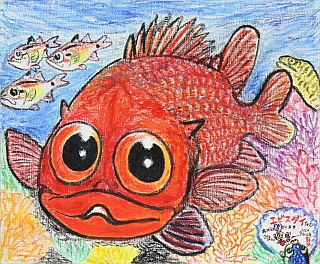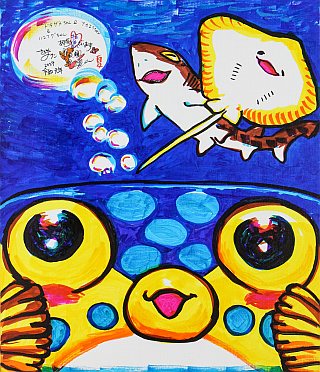 ■ Host galerie nichido
■ Sponsors WATER STAND, OIKE Co. Ltd., Suntory Beer Ltd., TAIYO SANGYO TRADING & MARINE SERVICE LTD., Matsunozushi
■ Corporate Supporters
Minato Oasis "nagisa-no eki" Tateyama, Sailors for the Sea Japan, HAKUHINKAN Co., Ltd., Taimei Elementary School, ANAN International Co., Ltd.
Hours: 10am--7pm on week days/ 11am--7pm on Saturdays. Closed on Sundays.
Open until 5pm on September 2, the final day of the exhibition.
For further enquiry about the exhibition, feel free to contact us.
galerie nichido Tokyo
Tokyo-to Chūou-ku Ginza 5-3-16
TEL: 03 (3571) 2553