Exhibitions
The 54th Showa-kai Exhibition at the galerie nichido Tokyo

March 22 [Fri]-April 2 [Tue], 2019. Closed on Sundays.
We will display the award winning paintings of the 54th Showa-kai Exhibition. This contest based exhibition of the Showa-kai started from 1966, aiming to discover and support young talented painters.
The Showa-kai has turned out many exciting new painters for a half century, and its exhibition came to be known as the gateway to success for a new painter. We would like to express our sincere gratitude to the screening examiners and art lovers, as this growth of the Showa-kai entirely owes to their supports.
We think the main role of the Showa-kai will be to keep on questioning the meanings of the "representational and plane paintings" among various art forms in this information intensive era. We will never stop trying to bring out the active global painters, and looking forwards to seeing you at the gallery with the prize winning and selected superb paintings.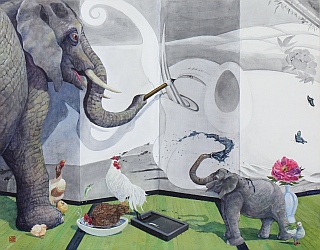 Hours: 10am--7pm on week days/ 11am--6pm on Saturdays, Closed on Sundays
For further enquiry about the exhibition, feel free to contact us.
galerie nichido Tokyo
Tokyo-to Chūou-ku Ginza 5-3-16
TEL: 03 (3571) 2553