Exhibitions
New Year's Exhibition: Gloried in the Cultural Merits -HAYASHI Takeshi and OKUTANI Hiroshi, Progress of the Dokuritsu Bijyutsu Kyoukai (Independent Art Association) - at the galerie nichido Tokyo

January 10 [Thurs]-27 [Thurs], 2019. Closed on Sundays.
Mr. OKUTANI Hiroshi, who received the Showa-kai Prize at the 1st Showa-kai Exhibition, awarded a Cultural Medal in 2017. It was an outstanding achievement, 50 years since his master HAYASHI Takeshi won a Cultural Medal. On praising those two Cultural Medal winners, we gathered and display various pieces of the prominent painters who took part in the founding of the Dokuritsu Bijyutsu Kyoukai (Independent Art Association). This exhibition will introduce the remarkable achievements made by those pioneers. It is a worth seeing New Year's exhibition, trying to meet the expectations of our art lovers. We are looking forwards to meet at the galerie nichido Tokyo.
There will be a ceremony of Kagami-biraki (Mirror Opening, or cutting and eating the mirror-shaped rice cakes) and a rice cake pounding event to celebrate the New Year at the galerie nichido Tokyo, on January 10 [Thurs]. Feel comfortable to join our New Year's event. The ritual Lion Dancers will show up to the gallery as well.
【session 1】14:00-
【session 2】15:00-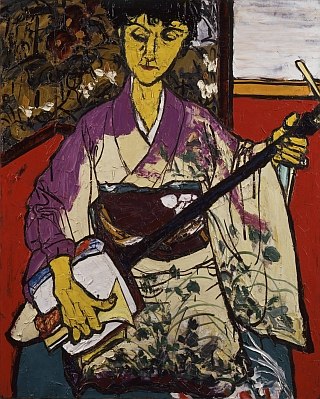 HAYASHI Takeshi, Samisen (Three-stringed Musical Instrument), oil painting, 100.0×80.3 cm (40F), Kasama Nichido Museum of Art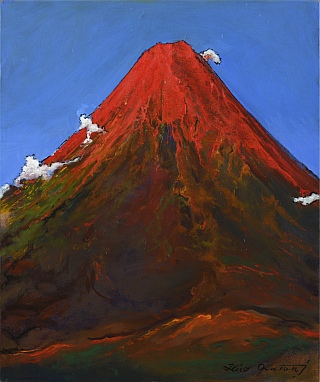 OKUTANI Hiroshi, Red Fuji Mountain with Rising Clouds, oil painting, 45.5×37.9 cm (8F)
Hours: 10am--7pm on week days/ 11am--6pm on Saturdays, Closed on Sundays For further enquiry about the exhibition, feel free to contact us. galerie nichido Tokyo Tokyo-to Chūou-ku Ginza 5-3-16 TEL: 03 (3571) 2553