Exhibitions
Best Wishes for the New Year's Exhibition at the galerie nichido Nagoya

January 8[Tue]-26[Sat], 2019. Closed on Sundays.
In this colorful New Year's exhibition, we display the masterpieces of the French Impressionist, the pieces of the deceased painters who have left their names in the art history, and the new pieces by the leading masters of the contemporary European paintings.
We are looking forwards to seeing you at the gallery.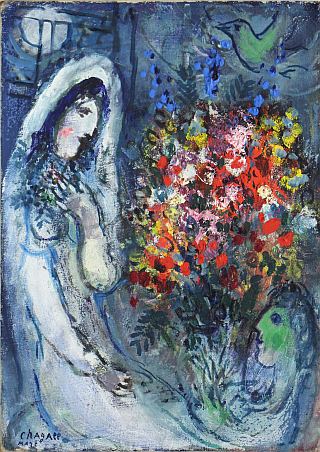 Marc Chagall, Blue Bird and a Bride, 1970, oil painting, 45.5×33.3cm
Hours: 10am--7pm on week days/ 11am--6pm on Saturdays/ Closed on Sundays For further enquiry about the exhibition, feel free to contact us. galerie nichido Nagoya Nagoya-shi Naka-ku Nishiki 2-19-19 Hirokouji Center Place 1F TEL: 052 (221) 1311 FAX: 052 (221) 1336