Exhibitions
The 57th mignon exhibition at the galerie nichido Tokyo

The 57th mignon exhibition at the galerie nichido Tokyo
December 4 [Tue]-27 [Thurs], 2018. Open every day during the exhibition.
Jewell-like Little Paintings
Here comes the awaited season for viewing the various handy sized paintings, the minion exhibition. We colorfully display around 400 jewel-like paintings of handy size, smaller than 33.4 by 24.3 centimeters, all over the walls of our gallery. This exhibition covers the works of a wide variety of artists ranging from the great past painters to promising new painters. We believe that you will find a heart-catching little treasure, especially for your own. We are looking forwards to seeing you at the galerie nichido, on this increasingly lively Ginza Street.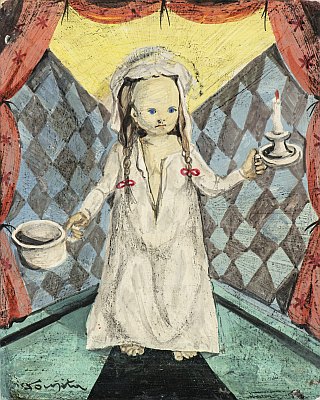 * Léonard Foujita, Girl in her Negligee, oil painting, 15.6 ×12.5cm.
The evening party will be hold from 5pm to 9pm at the galerie nichido Tokyo, on December 7 [Fri].
Hours: 10am--7pm on week days/ 11am--6pm on Saturdays, Sundays and holidays
(* Open until 9pm on December 7, the evening party of the galerie.)
Year-End and New Year holidays: December 29 [Sat] 2018-January 7 [Mon] 2019
For further enquiry about the exhibition, feel free to contact us.
galerie nichido Tokyo
Tokyo-to Chūou-ku Ginza 5-3-16
TEL: 03 (3571) 2553