Exhibitions
Memorial Exhibition, Works of Shishū Liberate --Sou (thought)--

The 40th Anniversary of the galerie nichido Fukuoka
December 8[Sat]-24[Mon/ holiday], 2018. Open every day during the exhibition.
Memorial Exhibition, Works of Shishū Liberate --Sou (thought)--

We would like to introduce the special exhibition of the works of Shishū for the 40th Anniversary of the galerie nichido Fukuoka.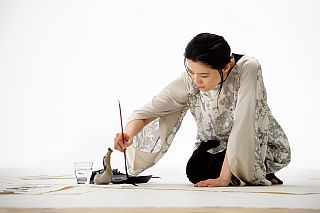 [Profile]
Shishū (calligrapher/ artist)
Shishū is an artist mainly worked on calligraphy. She acquired Japanese culture as the calligraphy and dancing from her childhood, and after becoming a calligrapher, she devoted herself to learn wide range of traditional art in Nara and Kyoto. Shishū attended Their Imperial Majesties in her exhibition in 2017. She received the first prize as well as the gold prize from the awarding committee in the exhibition of the Société Nationale des Beaux-Arts, at the basement hall of the Louvre Museum. In the World Expo 2015 in Milan (Italy), she was in charge of the art works of the Japan Pavilion and won the first gold prize at the world expo.
She continues to send out the thought and culture of Japan to the world, and her works that express the emotions and nature of the handwriting characters, are appreciated as the transcendental modern art across various art fields, not restricted herself only to calligraphy.
[Main Clients]
Japanese Government
- JAPAN
- Tokyo Olympic and Paralympic Games Promotion Office
- World Expo 2015, Milan, Japan Pavilion
- Submarine "Kenryū"
- Great Japan Earthquake reconstruction support project "Nihon Isshin"
NHK (Japan Broadcasting Corporation)
- Long-Running TV Drama Series "Ryūma-den"
- Art Program "Bi-no Tsubo (Pot of Beauty)"
Ise Shrine
The Anniversary of the 62nd Grand Relocation of Ise Shirine, the calligraphy piece "shyuku gosenkyū (Congratulate the Grand Relocation)" offered to the collection of the Jingū Museum
Shiseido Company
The calligraphy works offered for the world's first total design, "hikari (Light)", in collaboration with the Shseido Company. The related products were distributed throughout the 88 countries.
Fukuoka
Sushi Gyouten (sushi restaurant Gyouten). Fukuoka Airport, the exhibition at the premium lounge of the Japan Airlines. FP Hotels, the interior painting. Kubara Honke Group. KYODO Nishi-Nippon INC. Daifuku Fudousan Company.
[Awards]
World Expo 2015, Milan, Japan Pavilion, the gold prize in the exhibition and design division.
Exhibition of the Société Nationale des Beaux-Arts 2014, the double gold prizes from the awarding committee and the Société Nationale des Beaux-Arts.
Société Nationale des Beaux-Arts 2014, awarded as a Representative Artist of Japan.
Laval Virtual 2012 (France), Laval Virtual Award for Design Art and Culture.
The 5th Teshima Yūkei Award 2012.
The reception will be hold for the specially invited guests, from 5pm on December 8, 2018.
Hours: 10am--7pm on week days/ 10am--6pm on Saturdays and Sundays
For further enquiry about the exhibition, feel free to contact us.
galerie nichido Fukuoka
Fukuoka-shi Chūou-ku Watanabe-douri 1-1-2
Hotel New Otani 1F
TEL: 092 (713) 0440