Exhibitions
Galerie nichido Taipei branch Grand opening Exhibition

Galerie nichido Taipei branch Grand opening Exhibition
"Taiwan and Japanese Masters of Modern Art"

Date: 2015.10.28 - 2016.1.16
Open hours:11:00 - 19:00 (closed on Sun, Mon and National Holidays)
Place: galerie nichido Taipei
Artists:Takeji Fujishima | Saburosuke Okada | Ryuzaburo Umehara | Sotaro Yasui | Zenzaburo Kojima | Pierre Auguste Renoir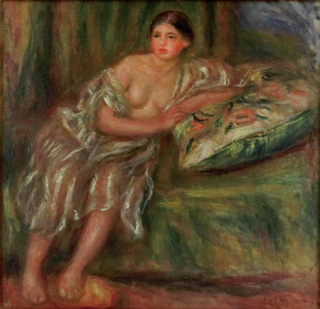 On this auspicious occasion that galerie nichido mark the 88th Anniversary, we are pleased to inform that we opened new space in Taipei. Now we have two branches overseas, in Taipei and in Paris which established in 1973.
In Taipei branch, we share programs with our contemporary branch, nca | nichido contemporary art, and trying to focus on Asian art mainly both modern and contemporary in the future. We hope to take up this challenge, and create a strong platform for cultural exchange with Asia.
For the grand opening, galerie nichido represents Japanese Masters of Modern Art who involved with Taiwan. Since Japan opened up to the world in 1868, many Japanese painters studied in France, and established Art University in Japan after they returned. Around that time galerie nichido was working directly with Takeji Fujishima, who was a main person of Japanese art world.
The members of "Dokuritsu Bijutsu Association" had an exhibition in Taipei in 1930. One of the members, Zenzaburo Kojima had a strong relationship with our first generation, Jin Hasegawa. Ryuzaburo Umehara has been working together for a long time with Tokushichi and Chieko Hasegawa, in addition Chieko had an interview to Umehara in her publication "Bi no Kyosho (Masters of Modern Art)"
In this show, we introduce the art history from France to Taiwan and Japan including the work of Pierre Auguste Renoir who was a teacher of young Ryuzaburo Umehara.
During Japanese colonial rule (1895-1945), Taiwan have been modernized in industrial and also in various fields. The influence of Japanese culture contributed to the modern cultural development in Taiwan can be seen in the art scene.
After the Meiji Restoration Japan was praised as the Asian artistic nation by Europe. The new Meiji government promoted the policies of industrial development, wealth and military strength of Japan, also encouraged the arts and crafts as a national policy. They established the institution and system of art education, government-sponsored exhibitions, and the convention for protection of artistic works. A great number of people inspired by European culture aimed at improving the art in Japan. Many talented people came out and the Japanese art scene grew rapidly.
Some Japanese artists visited Taiwan for work as art teacher or for production. Among them, especially Kinichiro Ishikawa, Koto Gobara, Toho Shiotsuki and Seigai Kinoshita played an important role. They submitted a proposal for platform for artists in Taiwan to the Governor-General of Taiwan, in 1927 the Imperial Art Exhibition and Taiwan Art Exhibition referring The Korea Art Exhibition (since 1922) were established. Kinichiro Ishikawa worked at Taipei Municipal Jianguo Senior High School and National Taipei University of Education. Some of his pupils continued to study in Japan and had great career.
Since there were no higher education institutions in Taiwan, people who desired to study art mostly visited Japan. They studied at art school, under one or more teachers, participated in exhibitions such as "Tei-ten", "Nika-ten" and some students went to Europe. Through those experiences abroad they developed own style and left many great works. In this relationships, we can find some important names like Liu Chin Tang, Chang Chiu Mei, Teoh Soon Keng, Wu Tian-Hua and Takeji Fujishima / Yen Shui-long, Chen Chin Chi, Kuo Po-Chuan, Li Mei-shu and Saburosuke Okada / Cheng Chen Poh, Liao Jichun hua, Chen Huikun and Itaru Tanabe / Ho Terai and Eisaku Wada / Liao Te Chang and Kunzo Minami / Choki Kyo and Sotaro Yasui and Ryuzaburo Umehara.
Celebrating the opening of nichido garo Taipei, the exhibition features Japanese painters who influenced the Taiwanese painters. I hope we can look back as well as forward, for the values that can be found in our history between Japan and Taiwan.
Chizuko Yoshida (Fellow of Tokyo Art University, composite art archive center )